Flexible Spine (And Ribs) Side Lying Sessions
10 classic Feldenkrais sessions done lying on your side will keep you moving and walking smoothly. Use the series to transform your movement starting from the very first session.
$79.00
My Personal Guarantee To You
As you likely know already, I stand 100% behind what I sell. I want you to be delighted with these sessions. If you are not satisfied with the material, ask me and you will get your money back - no questions asked.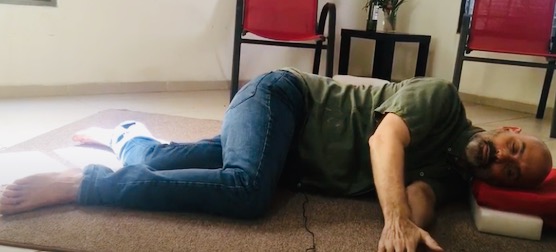 A flexible spine is a healthy spine...and a youthful spine!
When the vertebrae and muscles in your spine are free to move in all directions easily and smoothly, then you have the ability to engage the world with power and grace. You can move in any direction with minimal preparation and hesitation and engage in the activities that you want to engage in.
If your individual vertebrae and ribs can stay flexible and open for movement, then YOU can stay available and open to keep doing loved activities.
These 10 Feldenkrais sessions done lying on your side will keep you moving and walking smoothly - like an alley cat gliding across the back fence. Use the series to transform your movement starting from the very first session.
Starting with gentle introductory sessions and moving into more and more unique and complex movements these sessions will move up through all of your back, spine, ribs, and shoulders.
"A Flexible Spine" is a must-have for your personal Feldenkrais library. And if you are a movement teacher of some sort, you can use the included transcripts to create your own products and workshops.
The Core Sessions
These sessions could make you realize (if you haven't already) that it's not just your brain and neurons that have plasticity, but also your bones and muscles.
1. Moving Your Head and Pelvis Backwards (38-minutes)
This session is the easiest of the advanced side-lying sessions (though the movements themselves might feel a bit strange). Go slow and only do what is comfortable.
2. Tiny Head Movements While On The Side (36 minutes)
This is a session about TINY movements of the head and other parts of the body. You may find subtle changes cascading throughout your body. It can be quite relaxing if you attend to your comfort while doing it... enjoy!
3. Softening Your Spine and Chest (48 minutes)
This session involves movements while on the side (left and right) which can really add some flexibility and new possibilities throughout your spine and ribs.
4. A Flexible Spine 1 (44 minutes)
This session involves strange and wonderful movements of your head, neck, spine, and legs...go slowly...and enjoy!
5. A Flexible Spine 2 (38 minutes)
We could consider this a continuation of the session called "A Flexible Spine 1" (above) but it has a little less of the head and neck turning. You can do this one BEFORE the one above if you would like. It involves being on the left side (thus the name) in a position that is a bit like a fetal position. It can do some wonderful things for your neck and pelvis (and for your hip joint in particular).
6. Spinal twists and turns (43 minutes)
Everybody is different and I am not making you any promises with this session. But I have to say that people have literally felt changes in the position of their spine after doing this session leading to changes in how they stand and walk.
This session has some twists and turns in the spine that are highly unusual. You may find it a bit more challenging than the previous sessions. But it is still in the realm of possibility for most people who are willing to go slow and be gentle with themselves!
The "Intro" Sessions
I am including the sessions and transcripts below as a bonus for those of you who are new to Feldenkrais or new to my work. Think about doing these FIRST, before doing the ones above. They will give you a lovely foundation to build upon and are a complete series in their own right.
1. Shoulder Circles On The Side (31 minutes)
This gentle session begins the magic. It shows your body and mind how to let go of muscular tension in your shoulder at back. And at the same time, it evokes gentle movements to make individual vertebrae (and thus your spine) more flexible.
2. Hip and Shoulder Circles on the Left Side (30 minutes)
This session amplifies the one above and generalizes your new movement possibilities to more areas of your body.
3. Bending on The Side (32 minutes)
You may be surprised how many people lose their ability to bend their spine from side to side and how that limits their balance and flexibility. This session softens and opens your chest and spine.
4. Twisting and Reaching On The Side (30 minutes)
A bit more complicated than the three "intro" sessions above. Twisting and reaching works through not only your spine but your arms and shoulders.